Agricultural Pollution to Cause Water Quality Decrease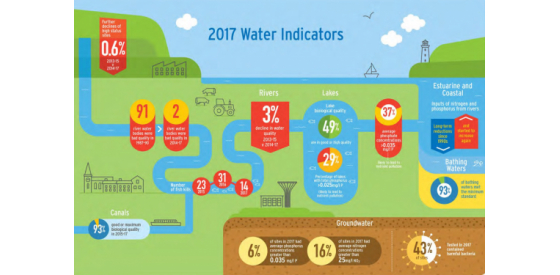 Indicators To Acess Water Quality
Environmental protection Agency published Report on Water Quality Condition and Trends in 2017. The state of the aquatic health is estimated according to 16 indicators from general quality to the presence of nutrients, bacteria and other pollutants in water bodies of Ireland:
River Quality
High-quality river sites
Nitrate in rivers
Phosphate in rivers
Canal quality
Lake biological quality
Total phosphorus in lakes
Fish Kills
Trophic status of estuaries and coastal waters
Nitrogen in estuaries and coastal waters
Phosphorus in estuaries and coastal waters
Nutrient inputs to the marine environment
Nitrate in groundwater
Phosphate in groundwater
Bacteria in groundwater
Bathing water quality
Main Theses on Water Quality Assessment
- In general, the research has found a 3% drop down in the quality of water bodies. The main reason for it, according to EPA, is agricultural pollution and excess levels of nutrients (slurry and chemical fertilizers in water) and insufficient wastewater treatment.
- Unfortunately, phosphorus and nitrogen pollution to the marine area started to increase again despite historical long-term improvements.
- The Research on Ground waters has also shown the presence of E.Colli (being an indicator of faecal bacteria contamination in waters) in 43% of areas under research.
- On the good side, the quality of waters in Canals is remaining stable and positive.
- The reports of fish kills have significant improvements- 14 reported fish kills in 2017 compared to 31 in 2016.
- 93% of bathing water met the minimum required standard of sufficient quality.
EPA sums up the Report in simple words: "In terms of water quality, the best of the best were getting worse and the worst of the worst were getting better". A lot work is expected to be done for further improvement of water sources across Ireland.