pH (Acidity & Hydrogen Ion Concentration)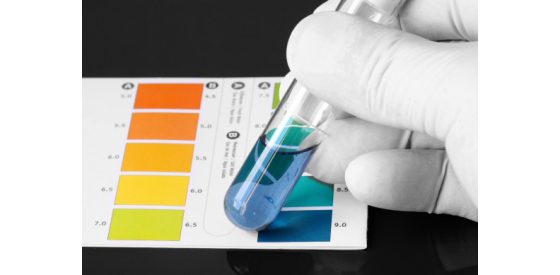 pH (Acidity & Hydrogen Ion Concentration)

| | |
| --- | --- |
| Odour | Not noticeable |
| Appearance | Not noticeable |
| Taste | Can affect taste, but depends on pH and other species present |
| Limit | pH of 6.5-9.5 |
| Sources | Source, biologic activity, and the chemical species present all impact pH |
| Characteristics | Represents the concentration of hydrogen ions and acidity |
| Health Impacts | Acidic water can cause metal leaching (can be hazardous) while basic water can increase hardness and alkalinity; also impacts water treatment efficiency |
pH in Drinking Water Information:
Properties:
pH is a water quality parameter that represents the concentration of hydrogen ions in a water supply. It is also a measurement of acidity and basicity. pH ranges from 0 to 14 where 0 is extremely acidic and 14 is extremely basic. A pH of 7 indicates a balance between acidic hydrogen ions (H+) and basic hydroxide ions (OH-); this pH is the most desirable in drinking water and is considered neutral.1 Acidic waters can cause the leaching of heavy metals from plumbing, industrial water tanks and pipelines, and other water storage and transportation infrastructures.2 On the other hand, increased basicity can cause lime scale and mineral build-up on appliances and plumbing. Hard water also affects the efficiency of soaps and detergents. Water treatment processes such as coagulation and flocculation are highly sensitive to pH.1
Sources:
pH is impacted by the presence of acidic and basic compounds and some inorganic salts.3 Certain biological processes such as photosynthesis by algae can also impact pH levels.1
Regulations:
The pH range of drinking water is 6.5-9.5.
Health/Environmental Concerns:
It is rare that the acidity or basicity of drinking water will reach high enough levels to directly impact human health. However, acidic waters increase metal leaching in water distribution systems that can cause serious health problems. In general, pH is used as an indicator for other water quality problems such as hardness or corrosion.
Action:
pH can be easily measured and regulated. The pH of water can be adjusted during water treatment using strong or weak acids and bases. If you suspect that the pH of your drinking water falls beyond the recommended range, contact your Water Service Authority. If drinking water makes you ill, contact a doctor right away.
1 Guide to the Parameters in the European Communities. What's in your water?; S. I. No. 278 of 2007; National Federation of Group Water Schemes: Ireland.
2 Water Quality Standards: Water for Life, 2019. Southern Water Web site. https://www.southernwater.co.uk/help-advice/drinking-water-quality/issues-with-your-waters-colour (accessed Jan 2, 2020).
3 Interpretation and Standards. Parameters of Water Quality; 1-84096-015-3; Environmental Protection Agency: Ireland, 2001.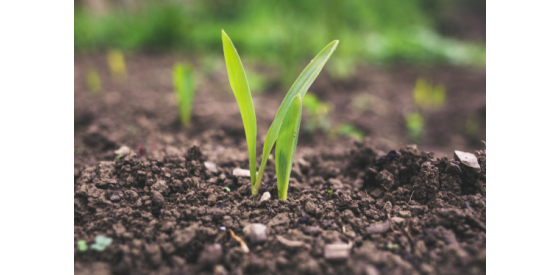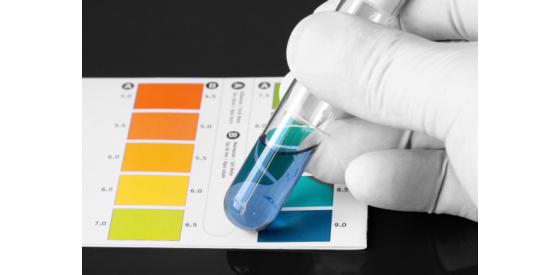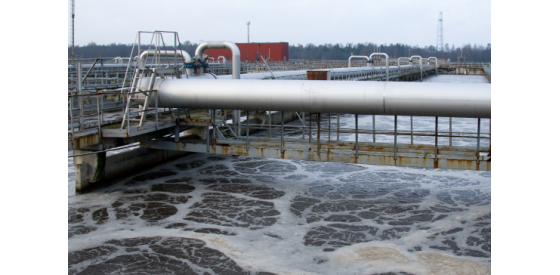 pH (Acidity & Hydrogen Ion Concentration)

| | |
| --- | --- |
| Odour | Not noticeable |
| Appearance | Not noticeable |
| Taste | Can affect taste, but depends on pH and other species present |
| Limit | pH of 6.5-9.5 |
| Sources | Source, biologic activity, and the chemical species present all impact pH |
| Characteristics | Represents the concentration of hydrogen ions and acidity |
| Health Impacts | Acidic water can cause metal leaching (can be hazardous) while basic water can increase hardness and alkalinity; also impacts water treatment efficiency |