Minister Jim Daly Officiates H2Olabcheck Laboratory opening in Bandon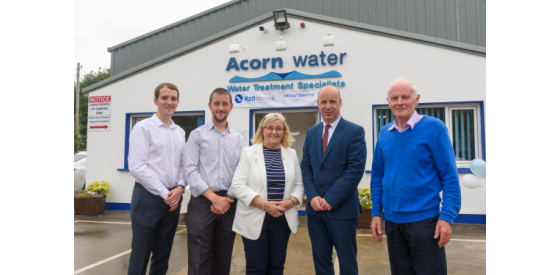 "The date of August 22 will go down in the history of our company as the day when our H2Olabcheck Water Quality and Innovation Laboratory has officially opened its doors for the first time.
"It is a combination of nearly five years of hard work by all the team," Says Aidan Holland, H2Olabcheck CEO, "We are all aware that water is ever becoming our most precious resource and protecting it, we believe, starts with monitoring it. Our goal is to raise standards in water quality everywhere".
(From Left to Right: William Holland (H2OLabcheck CTO), Kevin Curran ( Head of Enterprise LEO Cork), Minister Jim Daly, Aidan Holland (H2OLabcheck CEO )
To our great honour, Minister Jim Daly has inaugurated the event "I am delighted to open this significant expansion to the very well-known Acorn brand. Over recent months, the country has come to realise just how much we rely on running water to homes and businesses across the island".
(Minister Jim Daly taking participation in the laboratory presentation during the H2Olabcheck Water Quality& Innovation Laboratory Official Opening)
The list of our special guests featured: Donagh O'Mahony, Head of Physical Sciences Dept CIT; Kevin Fitzgibbon, Head of Water Innovation at Nimbus Centre; Kevin Curran, Head of Enterprise LEO Cork and Amy McMullan, Work Placement Manager, UCC.
Our Laboratory is located in Bandon, under one roof with Acorn Water - our parent company operating since the year 1991, and giving a strong foundation for H2Olabcheck to grow and develop into an independent brand.
The CTO, William Holland emphasized that the laboratory was designed for a lab team to work and cooperate "As we all know, the environment in which we work has a significant effect on how we work. Therefore, a lot of thought was involved in the design of this lab to make sure that this space encourages creative thinking and is a happy workspace".
(William Holland, H2OLabcheck CTO )
We are happy to have like-minded partners on board who appreciates our efforts in maturing the right working atmosphere "As a partner to UCC Placement Program, it was extremely important that H2Olabcheck and any smaller company has to commit not only to employing and paying that student but also they have to commit being trainers and mentors to the students as well. And I knew from my initial conversations with Aidan that he did understand that role as an employer and that this size of the company was particularly well-structured to support a student in training", Mentions Amy McMullan, The UCC Work Placement Manager.
(Amy McMullan, The UCC Work Placement Manager)
Summing up, we are only to say that it was an amazing day and we would like to say a special thanks to all the people involved:
Our parents, Bill and Eileen Holland, for their support and great knowledge and experience to share with us;
Our team for doing best to implement the innovative technologies in water assessment;
Our guests for sharing this special moment with us;
And of course, to our customers and all the people who care about the water quality because our progress and newest technologies are designed for you.