Promoters of H2Olabcheck featured in recent Southern Star Newspaper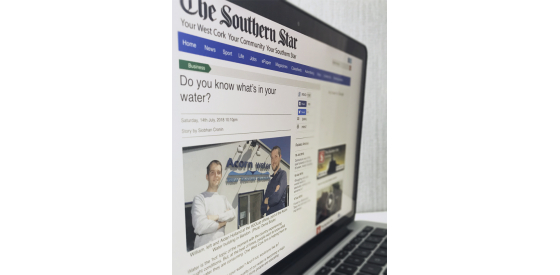 "DO you know what's in your water? And if not, would you like to?
Just like in other countries, the quality of our water is becoming a major talking point in Ireland, and people here are becoming more aware of their water quality. As a result of this trend, a Bandon company is expanding into the area of domestic water testing."
It' no wonder that the future lies in internet commerce and technologies. Over the past few years, we've lived a dream of creating a unique platform where customers have their water analysed via an online ecommerce platform. We were always aiming to make the water testing results interactive and easy to understand, so it took us a couple of years to develop the best system.
We are now pleased to see the first fruits of our labour. As we are gaining significant momentum recently, H2Olabcheck is not only gaining respect among our customers but is also arousing interest in the press.
Please read the full article about us in The Southern Star Newspaper.
Thank you for choosing us!