Do you drink tap water?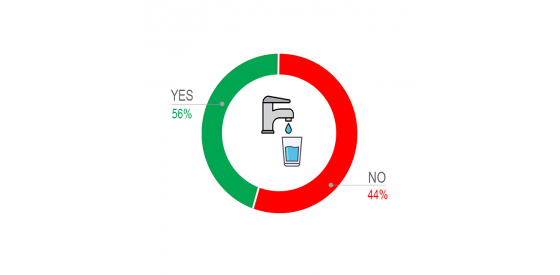 During the past week, H2Olabcheck carried out a poll on Facebook that reveals 44% of people do not drink water straight from their tap.
The research was located across Cork, Dublin, Kerry, Kilkenny, Limerick, Tipperary and Waterford counties. 225 people of the age between 25 to 65 were involved in this poll.
Why does it matter? Well, at first sight, tap water may seem to be good for drinking and cooking, unless it has a strange taste or smell. But it is not really so in many parts of the country.
According to EPA 2018 Drinking Water Report, the main issues affecting public mains water quality are:
High levels of disinfection by-products
Persistent pesticide failures in some supplies
Large numbers of lead pipe connections in properties
The water obtained from the private wells is consistently poorer. Besides the above-mentioned issues, the presence of E Colli and other pathogenic bacteria is observed in many regions.
Our mission is to provide you with the answers to which types of pathogens and other contaminants may be present in your water.
Please, follow our News Section, and visit our Facebook page for more interesting topics, news and useful posts or contact us in case you have any questions.